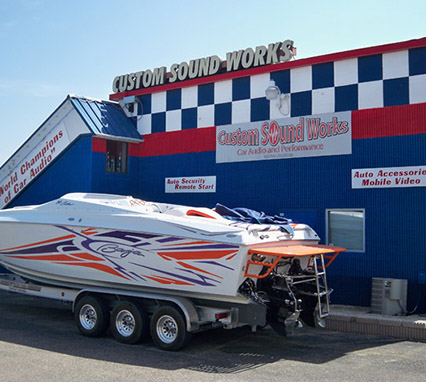 Boat stereos and Auto stereos
Who we are.
Custom Sound Works is the undisputed leader in the West Texas providing premier mobile electronics sales and installation for those who want the best. We have been servicing the area since 1997, which makes us the longest running shop in the Lubbock area. We sell and install all types of mobile audio, video, security, and aftermarket performance parts.
Lubbock Car Stereo
15 World LOUDEST Overall SPL records. 37 State records. 20 Regional records. 72 total sound off championships total. Custom Sound Works will break the barrier. No other sound shop or competition team has won more records and awards than Custom Sound Works. Our "WORLD FAMOUS" custom built speaker enclosures are tuned specifically for the vehicle and application YOU want. We guarantee results whether you want the loudest car on the block, world class sound quality, or just want to improve your vehicle's overall sound. From small simple jobs, to out of this world installs, we provide you with great prices and unbeatable service.
We also provide professional SPL testing with in-house high-end equipment to accurately tune your vehicle. We have been known to host sanctioned USAC and dB Drag Racing events so you can show off your ride.
Custom Sound Works is known internationally for our tech support and sound designs for anyone needing real results. From Australia to Zimbabwe we've got you covered.
Our knowledgeable professionals provide you with audio, video, and security systems that range from near stock to the most custom installations. We also provide for the growing demand of aftermarket performance parts for many cars. Whether you want better fuel mileage, or a faster 0-60, we can help you get down the road.
At Custom Sound Works, we pride ourselves in giving accurate information to our customers so they can make an informed decision about their automotive wants and needs.
Please spend some time looking around and then come and see what Custom Sound Works can do for you!